Who We Help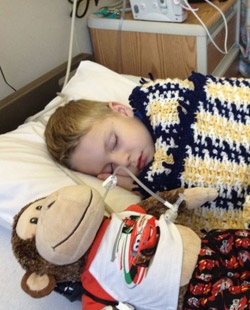 When a parent is told that his or her child needs a feeding tube other medical equipment, it can be a very scary time for the entire family. To make this process less frightening, we have created a product called Tubie Friends™ .
For children receiving a feeding tube, a stuffed friend with medical equipment mirroring the child's can make the entire process less frightening. As much as possible, we mirror the child's medical interventions to the animal by placing a similar feeding tube, as well as additional medical interventions such as central IV lines, tracheostomy tubes or oxygen cannulas if possible. Additionally, each Tubie Friend comes with a parent letter providing information and listing support groups for feeding tubes.  
Tubie Friends were initially intended for people with medical devices and are developmentally under the age of 18.  However, we know there is value in an adult, school, siblings, caregivers or doctor having a Tubie Friend as well.  Currently, our donations are solicited and collected for children, so we need to use our funds for children.  

To meet these other needs, we have started a fundraiser that allows anyone to own a Tubie Friend and support our cause at the same time.  If you are not requesting a Tubie Friend for a child, please visit our products page and request a Sibling Tubie Friend.  If you have questions, please email us.  If you are an adult and need financial assistance with purchasing a Tubie Friend, we can help you.  Send us an email!